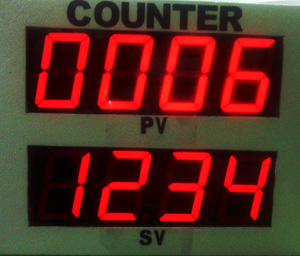 These Counter are made by using very high quality raw material Counter are designed for various applications such production, batch, rate RPM, Length counting. These Counter are widely available in various specifications and dimensions depending on the application standard digit are of 0.46 inches size can be offered in 2 ,4 ,6 inches size also.
Counters used in process are facilitated with double display to indicate process value & set target valued. In case of programmable counter the values cable presented thru thumb wheel or front keypad.
The digital counters are designed to take inputs from Limit switches / proximity sensors / encoders. Automatic reset or manual reset fuction available to facilitate as per the process requirement. Time delay function on relay changeover is also available. Supply voltages available are 230 VAC /24 VDC.